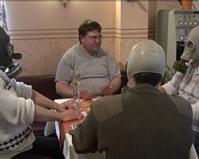 Kruscha
"Ich kann nicht zeichnen, tu´s aber trotzdem."
Gera, Germany
member since October 08, 2021
5,402
views
0
comments
0
favored
Professional Info
Name
Sven Kruscha
Date of birth
1978-11-24
Education
Gartenbaufachwerker, heute Elektromontagehelfer
Technique
Minimalistisch, experimentell
Tools
Feinliner Marker Buntstifte Fasermaler Wachsmalkreiden PC
Influences
Heinz Jankofsy Henry Büttner
Fav Toon
Tim und Struppi The Peanuts Schwester Monika Vater und Sohn Die Sturmtruppen Clever und Smart Die Diggedags Die Abrafaxe
Personal Info


Publizierender Hobbyzeichner. Publikationen in österreichischen und deutschen Comic- und Literatur-Zeitschriften. Da ich in den letzten Jahren vermehrt Urheberrechtsverletzungen meiner Cartoons im Internet feststelle, poste ich nur noch aktuelle Cartoons. Ältere Sachen in grillratte.de.