Help
>> FAQ
Frequently Asked Questions
Everything you always wanted to know about toonpool.com.
General
What is toonpool.com?
toonpool.com is a community-platform for people who love cartoons. Try it out. Upload your latest drawings and let the community vote for them. Judge and add comments to the cartoons of others. Turn into an expert on humour! Create your own profile and find friends.
What is a cartoon?
A cartoon is an image that makes us laugh - it might even be thought-provoking. It is the shortest way of bringing a story to the point, only in this case the punch line is hidden in a picture. We might not always get the joke but still laugh about it. The word is French and describes the cardboard 'carton', on which draughtspersons used to draw. Political cartoons with a critical message are called caricatures.
What are tags?
Tags are labels or keywords which you apply to your images. This way you are marking your image, giving it a frame of reference and making it distinctive. This makes it easier for others to find your pictures. For instance you could label a cartoon, which is about a man who is talking to an inflatable doll, with the tags love, sex and air pump.
What are favourites?
On your way through the wonderful world of toonpool.com you will find pictures that will surprise you and make you laugh. You can mark these cartoons as your favourites and collect them in your inbox on your profile page. This way you will always find the cartoons and you can share them with friends.
What does toonpool.com cost?
toonpool.com is free of charge. You can upload images for free, vote and comment on other images and exchange them with friends. By doing this you become a part of the large cartoon-community of toonpool.com.
↑ top
Uploading
How many cartoons can I upload?
As many as you like.
Which file formats can I upload?
You can upload your cartoons in .JPG, .PNG or .GIF-format.
What is the maximum file-size allowed for a cartoon?
20 MB. This should be enough to present your cartoon in a good quality on toonpool.com.
How can I edit my cartoons before uploading them?
There are numerous software solutions on offer for image editing. "Photoshop" is a commercial solution offered by Adobe, but you can also use a free alternative, such as 'The Gimp' or 'GraficConverter'.
How do I change the information on my images after uploading?
You can change all the information on your cartoons retrospectively. Go to your profile by clicking your name, then select the gallery and the desired picture, to change the entered information.
Can I delete my cartoons later?
You can delete cartoons any time after uploading them. Go to your profile as described, select the gallery and click the 'recycle bin'button. Once you press enter the image can be removed from your gallery.
How do I choose which image out of my gallery I want to use as a highlight?
You decide yourself which image from your gallery you want as a highlight on your profile page. Go to your gallery and decide by which criteria the highlight is chosen: the image that was uploaded last or the image which has had most hits by visitors. If you want to pick a completely different image as a highlight, press the asterisk symbol next to the image. You can off course also choose not to pick any image at all.
↑ top
Registration
How do I register on toonpool.com?
Press the registration button in the upper right portion of the screen. All you need is a username, a password and a valid e-mail address. Once you have entered this information you will receive an e-mail asking you to confirm your registration. After your confirmation you can start editing your profile page.
Why do I have to register on toonpool.com?
toonpool.com is an open network. You can search and look at cartoons freely in all categories. Once you want to upload your own pictures or vote and comment on pictures, you need to be registered. This way toonpool.com makes sure that anonymous abuse is impossible.
I have lost my password or username!
If you no longer know your login information, toonpool.com will ask you to answer a specific question. If answered correctly you will receive an encoded e-mail with your username and password and you will be able to log in again.
How do I delete my newsletter subscription?
At the bottom of the newsletter you will find a link to unsubscribe the newsletter. You will be cancelled from the newsletter list immediately providing the editorial and technical mailing process was not already completed at the time of unsubscribing.
↑ top
Profile
How do I change the information on my profile?
You can change the particulars made on your personality by clicking your name after you login. You are now on your profile page, by selecting the icon 'edit profile' you are able to change or complete any information you have previously made.
Is it possible to hide my profile?
You decide who is able to see your profile. Go to your profile page, select the icon 'edit profile' and click on 'privacy'. You can not only choose when you want an e-mail notification - e.g. when a visitor has commented on one of your cartoons - but you can also decide who is allowed to see your profile: everybody, only registered users of toonpool.com, your contacts or just yourself.
Can I change my user name?
Your username is like a pseudonym by which everybody identifies you without you having to reveal your real name. This is why you can't change your username.
What is the Toon-O-Meter?
The Toon-O-Meter is your control panel on toonpool.com. Here you see how many cartoons you have looked at, uploaded, commented or translated.
↑ top
Cartoons
How do I find my cartoons?
Once you have uploaded your cartoon and branded it with the essential information, it will be collected in the gallery on your profile page. You can select a single image as your profile picture and change and add new titles, comments or tags to your images as well as changing the category in which the image appears in on toonpool.com.
I have discovered a violation of the general terms and conditions of toonpool.com. What do I do?
If you discover a picture that opposes to the principles of toonpool.com, you can report it to the administrator by pressing the button ?report as spam'. You should always name the reason, these can be: a breach of copyright, a false assertion of facts or an invasion of personal privacy. toonpool.com acknowledges the freedom of expression in art, but does not accept any images or comments that crudely violate the privacy of people, which represents an assault on human dignity or could be misunderstood as a sexual, racist or religious insult.
How do I find cartoons on toonpool.com?
All cartoons are sorted by categories. If you are interested in political cartoons, click the category 'politics'. Here you will find all images that were allocated to this category by the artist. If you are looking for a certain cartoon you can also use the search by keywords. If you type in 'george w. bush' you will receive cartoons about the President of the United States The more you specify your search the better the results will be.
How do I recover cartoons?
Once you have registered with toonpool.com you can collect cartoons as favourites. Press the button 'favourite' on the right side of the image. The cartoon will now appear in your favourites list on your profile page.
Why should I translate a cartoon?
toonpool.com is an international community. You will find drawings from all over the world and in just as many languages. Help us spread the spirit of toonpool.com to the rest of the world, by translating a cartoon into another language. Make sure the punch line is not lost in translation.
↑ top
Contacts
What are contacts?
Your contacts on toonpool.com can be your friends, relatives and acquaintances or simply other users that you want to keep up to date on. You will find your contacts and their latest cartoons on your profile, this making navigating easier.
Do I have to accept offers of contact?
No. Contacts are not a commitment and are only there to help you find users quicker. Accept the offer of contact only if you are interested in the user and his cartoons.
How do I block other users?
If a user is bothering you and sending you unwanted messages you can block this user. Go to your message inbox and mark 'block user' by clicking one of the unwanted messages. The user is no longer able to send you messages.
Is the amount of contacts limited?
No.
How do I invite friends to join toonpool.com?
Choose a cartoon you particularly like and click the button 'spread' on the right side of the cartoon. Fill in your friends e-mail address and optionally a message, then press send.
How do I delete a contact?
Select the corresponding user in your list of contacts. In the user's profile you can delete the contact the same way as you added it: press 'add contact' or 'delete contact'.
↑ top
Search
Are there any special search tricks?
Yes, they are similar to the common search engines. You can use the following symbols for your search: + (plus), - (minus), * (star)
If you enter 'clinton +obama' in the search field, you get all cartoons with Clinton and Obama.
If you enter 'clinton -obama', you only get cartoons with Clinton and without Obama.
You can use the star symbol '*' as a wildcard for further letters. While the search term 'bus' just gives you cartoons about buses, the term 'bus*' presents cartoons about Bush and business.
↑ top
Collections
What is a Collection?
A Collection is a gallery with cartoons of one thematic focus. For example, a Collection named "Bush Cartoons" can contain cartoons of toonpool.com showing George W. Bush. Further Collections could be "Belgian Cartoons", "Drawn in 5 Minutes" or "Surreal Cartoons". Every registered user can create Collections.



How do Collections work?
On the main page of each cartoon, you can see a box to the right displaying all Collections which contain this cartoon.
If you're owner or moderator of a Collection, you can "nominate" this cartoon for your collection, i. e. you ask the artist for presenting her/his cartoon in your Collection. Usually the cartoon will be added to your Collection instantly, but some artists have to asked first (depending on their privacy settings).
What are Portfolios?
Portfolios are special Collections. Artists can create Portfolios to collect and present their own works. Other users can not become member and add cartoons to your personal Portfolio.
Who can create Collections?
Any registered user can create Collections. Just go to → Collection Overview and click on "Create new Collection". A Collection name and some tags are needed – that's it.
What are Moderators?
If you are owner of a Collection, you can switch members of your Collection to moderators. Moderators have special rights; they might add cartoons to your Collection or delete posts of your Collection forum.
However, you can decide which rights do your moderators have – on the Settings page of your Collection's adminstration area. Or you decide to be the owner and only moderator.



Why should I define moderators?
Moderators could help to add cartoons, build up and maintain your Collection while you're on holidays, for example.
What settings do Collections have?
You can write a salutation or info text and upload an avatar picture for your Collection.
You can define
if none-members could visit your Collection's gallery and forum
if users can become members in your Collection instantly or if you have to be asked first
which rights your moderators have.
I'm an artist. Why should I allow users to present my cartoons in their Collections?
Collections are a good opportunity for artists to raise the popularity of their cartoons, since they appear on more "corners" of toonpool.com. Especially cartoons which were uploaded 2 months ago or earlier might benefit from the presentation in a Collection.
Cartoons in Collections are not only sorted by upload date, popularity or rating, but also by topic.
Nevertheless, you decide if you want to let users present your cartoons in Collections.
I'm an artist and I don't want other users to present my cartoons in their Collections. What do I have to do?
On the → privacy page (you have to be logged in) of your Edit Profile section, you can choose if your cartoons can be added to Collections instantly (default) or if you have to be asked first when a cartoon of yours is nominated for a Collection.
In this case, you can individually accept or ignore the presentation of a cartoon in a Collection on your Activity page.
I'm an artist. How will I be informed if one of my cartoons was added to a Collection?
You're getting informed on your Activity page as soon as one of your cartoons was added to a Collection or if one of your cartoons was nominated for a Collection respectively – in this case you can accept the nomination there as well.
How do I stay up-to-date with my Collections?
On your Activity page, you receive information about your Collections: if one of your moderators added a cartoon to your Collection or if a user became member of your Collection or if a user wants to become member of your Collection – in this case you can accept it there as well.
Plus, you (and any user) can subcribe to any Collection's RSS-Feed.
What is "smarToon"?
smarToon is a cartoon filter feature which enables you to add cartoons with similar attributes to your Collection in a fast and easy way.
smarToon is comparable to the "smart playlists" in iTunes or mail filters in eMail applications.

Example: you want to create a Collection called "Obama Cartoons". You could browse all toonpool.com cartoons to gather all Obama cartoons, but you can save time and use the smarToon feature.


Go to the smarToon feature in the administration area of your Collection on the "edit gallery" page.
Name the filter, e.g. "Obama Filter"
Type "obama" in the 'tags' form and click on "save filter". Now you will see all cartoons on toonpool.com which contain the tag "obama".
If you want to add one of these cartoons to your Collection, click on the Symbol below the cartoon.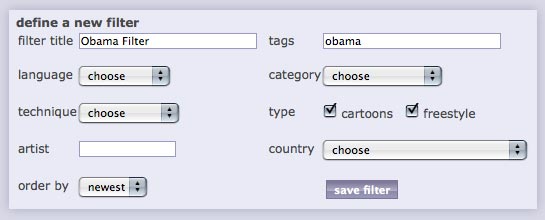 Your filter "Obama Filter" is saved – you can call it up later to refresh your Collection "Obama Cartoons" with new cartoons which are tagged with "obama".
Other smarToon filter might be cartoons in French, vectorized cartoons, economy cartoons or illustrations from China. You can also combine filters, e.g. "US vectorized cartoons about Obama".
↑ top
Images for the Shop
How do I add my images to the Shop?
First you have to accept the Extended Terms Of Use which you find here (you have to be logged in).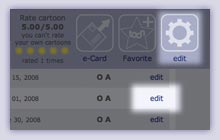 You can now add images to the Shop. There are two ways to do so: either you click on the »edit« button on your images's main page or you use your Catalogue (you have to be logged in).

The Catalogue is a checklist with all images which you uploaded to toonpool.com. Access to the Catalogue is only granted to you. With the »edit« link in each line you open the »edit Cartoon« window of the respective image to edit it or make it ready for the Shop.



Your image needs a proper resolution to be ready for the Shop (read the technical requirements below). The resolution of each of your images is displayed in the Catalogue. If the resolution of an image is colored in green, it is ready for the Shop.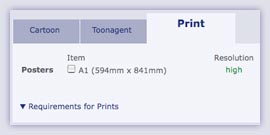 Open the »edit Cartoon« window by clicking on your image's »edit« link in the Catalogue or the »edit« button on your image's main page.
Open the subcategory »Print«, check »A1« and save these settings. Your image will be added to the Shop instantly.
The resolution of my image is too low to add it to the Shop. What do I have to do?
Open the »edit Cartoon« window. With the »Re-Upload« function on the bottom of the window, you can replace the actual online image with a high-resolution version of the image.



Please notice: we want to provide the best quality to our customers. That's why we just accept images as Shop items with »native« resolution, i.e. images which have been created or resp. scanned in the actual or higher resolution.

We preserve the right to delete images from the Shop which have been »blown up artificially« or interpolated, i.e. do not correspond to the actual resolution.
What are the technical requirements for images for the Shop?


If your motif is in portrait format

If your motif is in landscape format
File size 20MB maximum
The print area is DIN A4@ 300dpi (min. 2480x3508 pixel).
Requirements for your image: long side min. 3508 pixel or short side min. 2480 pixel
JPEG-Quality 8 resp. 80% minimum
The aspect ratio is ca. 5:7. The poster will be cropped in case of a different aspect ratio.
The following settings are not neccessary but helpful for processing your image:
CMYK / process color
Color profile "ISO Coated v2" (download at
eci.org
)
My uploaded image exceeds the file size limit or the upload time is very long. What can I do?
While a high resolution is important for poster prints, a high JPEG quality is not neccessary. JPEG quality 8 rep. 80% is adequate and might reduce file size by up to 30% compared to JPEG quality 10.
How can I raise the selling chances of my images?
Give your images as many tags as possible. That raises the chance of your images to be found more often – not only inside toonpool.com but also on google. Especially tags in your native language and in english (if not the same) might be helpful.

In addition, it might boost your image's popularity when they are represented in some Collections.
Will my images be cropped during print process?
The artist's motifs will not be modified, in any case. The white spaces will be cropped after print process, unless you uploaded the motif with white borders inside.
May I place my own watermark or contact information inside the motif?
No. Posters and fine art prints usually do not contain information like »[email protected]«. The contact means on toonpool.com should be sufficient for your fans to get in touch with you.
Nevertheless you can use toonpool.com watermarks. Go to the »edit cartoon« window of your motif, activate the checkbox »watermark« and save. Your motif is now marked with the watermark in the enlarged view. The print file will not be affected by this.
Motifs with watermarks and/or contact information in the data will be deleted from the Shop.
How can I add an image to the Shop without background?
If you upload an image, it is usually rectangular with a background or border. But you can upload your image in PNG format with transparency, hence it can be printed on t-shirts etc. without background.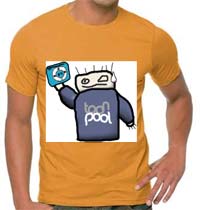 image uploaded in JPG/GIF format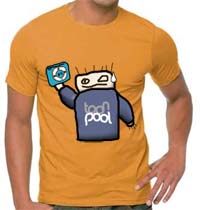 image uploaded in PNG format
That's the way you do it:
1. You need an image manipulation application capable of exporting images in PNG format with transparency, such as the freeware app GIMP or Adobe's Photoshop.
2. Open the image in the application.
3. The object has to be cut out, i. e. without background and border.
a) if you are working with a PSD file, just hide all layers which should not be printed.
b) if you are working with a JPG, TIFF etc. file, change the contant to a layer (e. g. by double-clicking on the background in the layer window and confirming the dialog window).
In both cases you can cut out your object with the lasso, eraser, magic wand tool and other tools to delete the background. (Please refer to the manual of your application or search for tutorials about cutting out if you need more help).
Usually your object should now look like this: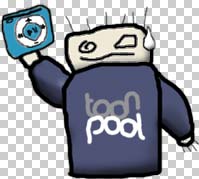 The checkered pattern displays the transparent area which will not be printed later.
4. Save your image in PNG format (without interlacing). This also applies to vector images, e.g. exported from Illustrator (choose "with transparency").
5.
Upload your image as is usual
or replace an uploaded JPG/GIF with the new PNG using the
Catalogue
(you have to be logged in).
Why is the background of my PNG only transparent in the Shop and white on the other toonpool.com pages?
Your uploaded PNG is only required for shirt printing and preview in the Shop. Due to visibility and browser compatibility reasons, toonpool.com still generates JPGs with white background from your PNG for the other pages.
↑ top