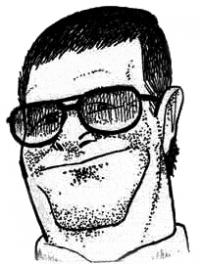 Clive Collins
United Kingdom
member since May 05, 2008
www.clivecollinscartoons....
107,463
views
13
comments
9
favored
Clive Collins's gallery
(17)
see all
Professional Info
Name
Clive Collins
Date of birth
1900-01-01
Personal Info


Secretary of the British Cartoonists' Association Life Vice-President Cartoonists' Club of Great Britain Newspapers/Magazines 2000 DAILY MAIL Cartoon Strip 'Baby Blair'. 1994 - '99 THE SPORTING LIFE Cartoons for David Ashforth Saturday column. 1985 - date READER'S DIGEST Illustrator plus general features artist. 1972 - date PLAYBOY US Single gag cartoons. 1972 - '99 THE PEOPLE Regular 'Money People' and single gag cartoonist. 1972 - '85 THE SUN 'Lucky Jim' cartoon racing tipster. 1964 -'92/'96 PUNCH Regular contributor (when it was still funny).