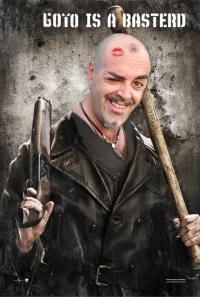 GOYET
"batman"
PUERTO DE LA CRUZ, Spain
member since April 13, 2011
goyocaricaturalive.com.pt
635,406
views
237
comments
34
favored
Professional Info
Name
GOYO BLANCO VELA
Date of birth
1973-11-18
Education
im very good educate¡..buth i never poot in practique
Technique
my desire pasion determination and sould
Tools
PENCIL OIL GRAFITE AND DRUMMS¡
Influences
evrey one i like¡..MABE YOU TO¡
Fav Toon
MY ONE¡..HITLER INSAIT OF THE TOILET??
Personal Info
im jhost a that cein of thin who feel a rely bad in that reality were why old livin¡..and that whot i doo¡..i mean¡..paintin and teather art, ist the whay to escape from the realyty¡..i mean¡..im not artist cose i whont to interpretate the reality¡..im a artist to escape from¡..i livin a good life in my abstract life¡..the art ist a supreme reality¡..and the cotidian life ist a very bad movie¡..horribol¡..and the most terrorific histori ist repit one and another time evrey day¡...the beauty from art and my propie rebel caracter make me more lither vident and freedom life¡..and some time i can bee conect whit some thin can call life¡..i mean¡..whit a good thins from life¡..ist always out site from reality¡ reality ist not evretin¡..evretin ist not evretin whot exist¡.. best and god thins¡..i mean rely god¡..i mean life¡..ist always comen from the imprevist¡..ist not exist anny cain of hapinnes in not one whay¡..ist not exist anny cein of hapines jhost onlie when you follow youre propie desire¡..jhost in that contact¡..this wot i toolkin abouth ist totalie opositive whit the reality and proyects and hapines more are livin and beever abuth¡..this the hapines from the idiot¡ from most of the peopel¡..thanks to evrey one of you¡..ol artist¡..nice peopel whit pasion and inquietudes in life¡..thast the cuestion¡..to have youre propie desire in life¡..and folow¡..thats the cuestion¡..life or death. veri simpel¡ kiss. THANKS TO EVREY ONE OF YOU¡...PEOPEL WHO LIKE TO COMUNIQUATE WHIT OTHERS¡..PEOPEL WHO DONT KERR TO TOOLK GOD ABOUTH OTHERS¡...PEOPEL WHO DONT LOOSE THE LOVE¡..THE CLIN EYES TO SEE THE BEAUTY FROM LIFE AND FROM OTHERS¡..IN THIS TIMES OF INDIFEENTS AND INCOMUNICATION AND FEAR STATE IST LIVIN THE SOCIETY¡...YOU ARE MY HEROS¡..COSE THIS IST THE HERO¡..IST NOT SUPERMAN¡..IST THE LOVE AND CORAGE FOR HELPIN AND COMPART NICE THINS IN LIFE WHIT OTHERS¡..COSE YOU ARE ARTIST¡..COSE YOU ARE A COMUNICATION PEOPEL¡..COSE ART IST COMUNICATION¡..MUST BEE¡..AND ALWAYS MUST BEE REBELD AND IN OPOSITION WHIT THE REALITY AND ANNY CEIN OF POWER POLITIC¡..COSE IN THE SAME TIME THE POWER AND VILLANS AND TIRANIC BAD PEOPEL DONT HAVE A FREE DAY¡...I DONT HAVE A FREE DAY TO¡..WHEN MOST ARE GIVEN MORE DARK IN THIS DARK AND HELL REALITY¡..OWER MISION IST GIVIN A LITH¡..IST COSE WHY ARE ARTIST. IST COSE IM ARTIST. AND FUKC IDIOTS GONERNANTS AND TIRANUS¡.. OL PEOPEL WHO LIVIN FOR MAKE DARKNES THIS WORLD FUUL OF DARK¡..FUKC ALL OF THEN¡ THANKS TO EVREY ONE OF YOU EGAIN¡..