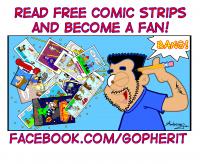 Gopher-It Comics
"Have Fun!"
Hemet, United States of America
member since March 10, 2011
facebook.com/Gopherit
384,240
views
39
comments
0
favored
Gopher-It Comics's gallery
(43)
see all
Professional Info
Name
Ambrose Quintanilla IV
Date of birth
1968-12-25
Education
Completely self taught by studying other great cartoonists and the book, The Secrets of Professional Cartooning! (My Bible) by Ken Muse.
Technique
Pencil drawings traced with inked on a lightboard.
Tools
Staedtler Mechanical pencil (1.3MM) & Pigma Micron pens.
Influences
Ken Muse, Don Martin, Sergio Aragones, Dik Browne, Jim Davis, Gary Larson Stan Sakai and Berkeley Breathed.
Fav Toon
Anything by Don Martin!
Personal Info


I'm a professional cartoonist based in Southern California. I draw several different comic strips that are posted once a week on Facebook.com/Gopherit in a random rotation.