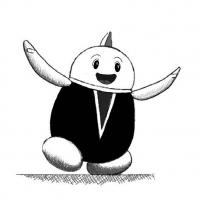 Teruo Arima
"individualism & pragmatism"
Chiba, Japan
member since January 29, 2011
tarima.lolipop.jp/
344,868
views
22
comments
10
favored
Professional Info
Name
Teruo Arima
Date of birth
1984-03-03
Education
Pragmatism and Individualism
Tools
pencil
Influences
realistic
Personal Info


My nickname is Teruo Arima. Now I'm working in Japanese company. My 1st ambition is becoming cartoonist and illustrator within 10 years My main way to draw is copying. I look for more photo realistic description if I draw illustration. If I make cartoon or comic, I need skill to omit detail of the scene and devise to write quickly. I do not have any graphic tablet. But I need to buy if I make cartoon seriously. My 2nd ambition is migrate Western rich country like Canada or Germany to work and live there permanently within 15 years. My doctrine is pragmatism and individualism. I purse my ambitions and desire within law and public interest. 'Within law and public interest', I am entitled to do anything. I have no sympathy and always weigh losses against gains in doing everything calmly. So I'm far from similar Japanese. I always feel Europe or Canada society is attractive. That is because Western working environment is much better than that of Japan, make much account of individual right, prefer money and contract than kind-heart and ties. By contrast, argument based on emotion, collectivism and altruism linger on in Japanese society. I hate Japanese national character with conformity very much! Most Japanese company has a little holidays and employees have to work long time and obey like dog. Several absurdities parade as there. I will publish ebook to appeal how ridiculous Japanese society is within 10 years in English. And Japan begin to collapse and economy get worse little by little now. So I want to abandon Japan and migrate Western rich country to work and live.