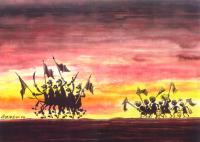 ozbek
"think again!"
Izmir, Turkey
member since January 18, 2008
geocities.com/erayozbek
112,246
views
79
comments
28
favored
Professional Info
Name
Eray Özbek
Date of birth
1942-06-15
Personal Info


I was born in 1942 in Mugla, in Turkey. I am a graduate of the Academy of Fine Arts in Istanbul, in the field of Architecture. (1971). I am drawing for periodic magazines and exhibitions. My personal exhibitions: 1951- Bergama, 1988-Mugla, 1990-Izmir, 1994-Ankara, 1994-Trento, 1996-Antalya, 1999-Ankara, 2002- Izmir , 2004-Kragujevac, 2006-Bergama, 2006-Izmir, 2006-Istanbul,2007-Izmir,2008-Corum,2009-Izmir. I won 111 prizes(77 nternational) in 25 countries.I have an album : "Silhouettes" – 1999.