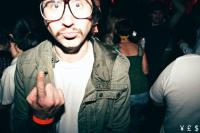 popestvictor
"Life's like a movie, write your own ending. Keep believing, keep pretending."
Nashville, United States of America
member since April 19, 2009
flickr.com/popestvictor
48,416
views
7
comments
6
favored
popestvictor's gallery
(9)


Professional Info
Name
Victor Huckabee
Education
School of Digital Communications - Lausanne, Switzerland
Technique
vectors and textures
Tools
wacom tablet, photoshop and illustrator
Influences
gary larson
Fav Toon
at the moment I love flapjack on the cartoon network.
Personal Info


I am a graphic designer and photographer based in Nashville Tn. I like to do drawings.