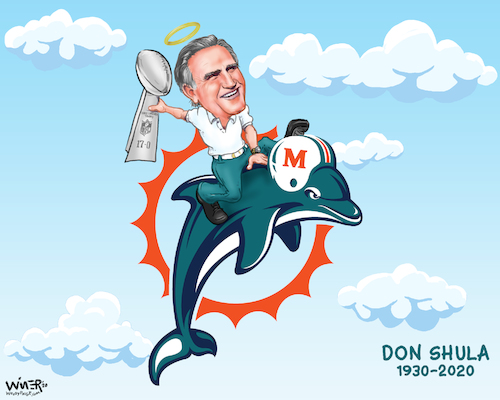 585
A Dolphin into the Great Beyond

1
Applause

By
karlwimer
on May 06, 2020
Latest cartoon for WoodyPaige.com, a leading sports website for covering things in the United States and abroad.

Don Shula just left us to begin a totally different season. The winningest coach in NFL history (347 victories), the owner of the only undefeated season, two Super Bowl championships, and only two losing seasons, the longtime Miami Dolphins coach was the gold standard.

And Donald Francis Shula did it with a ton of class and no excuses. He won ugly with defense, with a crushing running game, or by airing it out, depending on what the skills of his players offered.

If there ever will be a Rushmore carved out for coaches, Shula would be a slam dunk; his chiseled face a perfect fit to match his remarkable list of contributions to the game of football.
Sports » Soccer/Football Ball Sports
nfldolphinswimeramericanfootballdonshulamemorialmemoriamcoachhalloffame