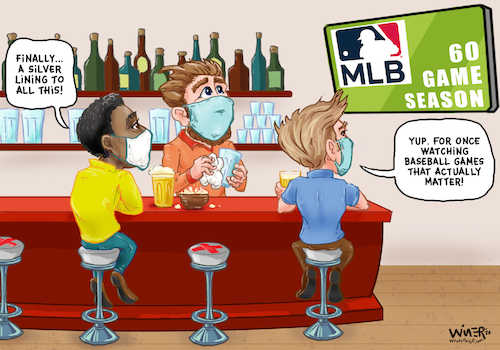 309
Baseball Games That Matter

1
Applause

By
karlwimer
on July 04, 2020
A cartoon for WoodyPaige.com, a sports website platform for many of the best commentators on sports in the U.S.

After months of torturous negotiations, the owners and the players' union came to an agreement to make baseball happen in 2020. But it wasn't easy, and it was mostly ugly. Probably most apt was the analogy that it played out like a nasty divorce, and in full sight of the kids.

Enough has been said about sports fans of all kinds looking for any kind of live competition, even if they aren't allowed to see it in a stadium. Baseball will be no different. And additionally, it will provide the benefit of a much shortened season, so that each game actually means something. For a handy comparison, one regular season football game equals 10 baseball games (typically 16 NFL vs 162 MLB in a season).

At some point in a normal year, it's hard for the fans (and most likely many of the players) to REALLY care about each game. To you baseball purists out there, this can sound like sacrilegious smack talk, but ask the average fan on the street and they'll most likely give you a shrug if you were to ask who the home team is playing next...or even worse, who they just played. So this new look may prove to inject some additional excitement in the ol' ball game.

We are all ready for real games, so bring them on! At the same time, let's hope that we can protect the players and the armies of support and production staff who need to pull it all off in the time of Covid.
Sports » Ball Sports Other Sports