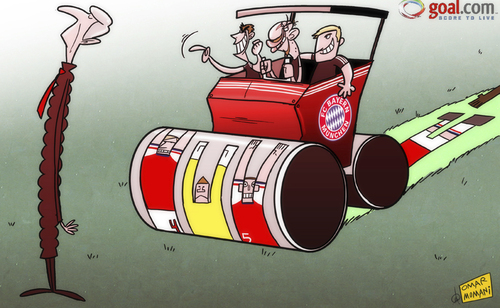 3027
Bayern steamroller sorry Gunners

2
Applause

By
omomani
on February 21, 2013
Arsene Wenger's time at Arsenal has rarely been as fraught as it is currently. Out of the FA Cup to Blackburn, the Capital One Cup to Bradford, and a whopping 21 points shy of Premier League leaders Manchester United, the Gunners would have wanted to put up a strong display in the Champions Leaguge against Bayern Munich.

But early goals from Toni Kroos and Thomas Muller simply flattened Arsenal, as Jupp Heynckes' men rolled straight through the Gunners with the only blot on their copybook a second-half goal from Lukas Podolski in the 3-1 win at the Emirates Stadium.

It remains to be seen whether Wenger will be able to straighten out his side in time for the return leg...
Sports » Soccer/Football Championships
arsenalbayernmunichchampionsleaguepermertesackerphilipplahmriberythomasvermaelentonikrooswengerwojciechszczesny