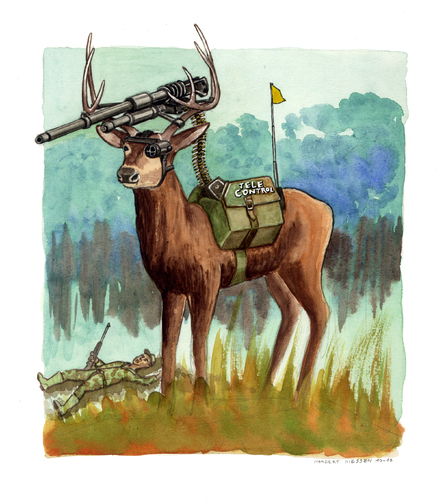 6044
Caccia sportiva

By
Niessen
on May 06, 2011
Now hunting becomes a real sport. There was no satisfaction in shooting poor defenseless animals. Time changes everything. The deer are equipped with remote controlled automatic precision rifles.
Defenders of animal rights, subscribe to our club for hunting down the hunter. And you hunters, free yourself from guilt. We'll have fun together.
Translations
(1)
add
Italian By Niessen
'La caccia diventa uno sport vero. Non c'era soddisfazione a sparare ai poveri animali indifesi. Ora cambia tutto. I cervi sono equipaggiati con fucili automatici di precisione, comandati a distanza.
Animalisti, iscrivete vi al nostro club per la caccia al cacciatore. E voi cacciatori, liberate vi dai vostri sensi di colpa.
Ci divertiremo entrambi.'

Petrol Bar

E Hummer

nostra cosa v...