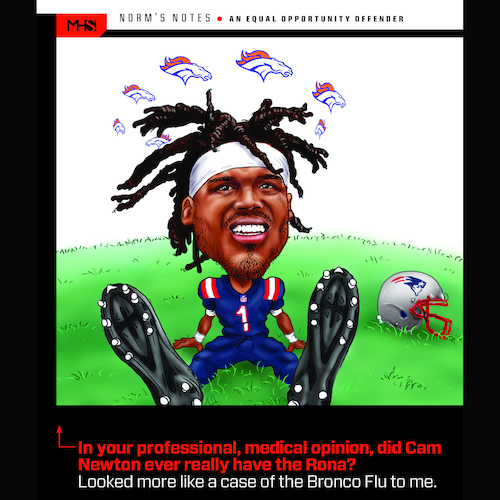 812
Cam Newton Bronco Flu

2
Applause

By
karlwimer
on November 19, 2020
My latest cartoon for Mile High Sports Magazine, the premier sports publication for all things sports related in the Rocky Mountain area and the greater USA.

Cam Newton, quarterback for the New England Patriots had a rough go against the Denver Broncos in their NFL battle. In the weeks prior, he was held out due to a case of the Coronavirus (here "'Rona"), which begged the question if it hurt his performance.

The answer here, is "No." It was something else, in particular the Bronco Flu.

In a long, bad season for the Broncos, a win vs long time rival New England is reason to celebrate.
Sports » Soccer/Football Ball Sports
nflamericanfootballdenverbroncosnewenglandpatriotscoronaviruscovidflusports