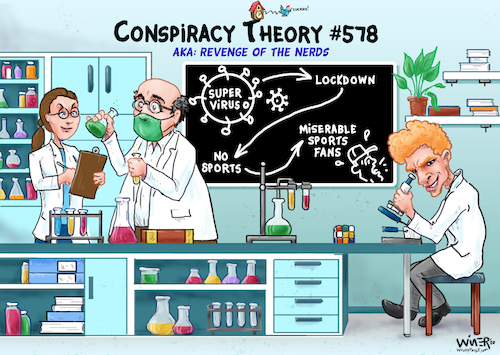 510
Covid Conspiracy Nerds v Sports

2
Applause

By
karlwimer
on June 16, 2020
A cartoon for WoodyPaige.com, a sports website platform for many of the best commentators on sports in the U.S.

The Coronavirus continues to take its toll on every institution across our country and the world. There has been no shortage of theories, conspiracy or otherwise, regarding the origins of the virus and hidden agendas.

So why not throw one more on the pile?

The "nerds" have already long ago found their revenge, as the technology age will attest. They are the ones who startup and run the hot new companies that rake in tons of VC and IPO capital. But to add insult to injury, they've developed a bug so strong it's shut down essentially every sport in the USA. The outcome is hundreds of millions of miserable sports fans who have nothing to watch, bet on, or spend hours arguing about with friends and neighbors.

Mission accomplished for the brainiacs who never had an interest in sports and suffered through years of middle and high school where popularity was the province of the jock.
Sports » Athletics Other Sports
coronaviruscovidsportsnerdsbrainiacsconspiracytheoriesshutdownlockdownsatire