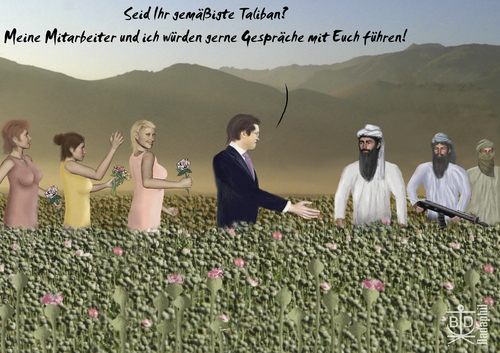 7572
Gespräche

By
Dadaphil
on December 21, 2009
dpa 20.12.2009: Verteidigungsminister zu Guttenberg für Gespräche mit gemäßigten Taliban.
"Seid Ihr gemäßigte Taliban?
Meine Mitarbeiter und ich würden gerne Gespräche mit Euch führen!"

dpa 20/12/2009 The German Minister of Defense -zu Guttenberg- wants to talk with moderate Taliban.
"Are you moderate Taliban?
My staff and I would like to have a conversations with you!"

dpa 20/12/2009
Le ministre de la Défense allemand -zu Guttenberg- veut discuter avec les talibans modérés.
"Etes-vous talibans modérés? Mon personnel et moi aimerions avoir une conversation avec vous!"
verteidigungsministerguttenberggesprächverhandlungafghanistan