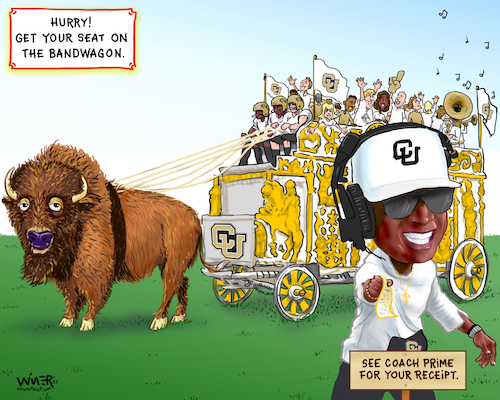 Get your Seat on the Buff Bandwa
#430967 / viewed 409 times
Latest for WoodyPaige.com.

The college football season is off and running and Coach Prime is leading the parade with quite the ride.
Not only has he accumulated a slew of talent in Boulder, he and his top notch coaching staff are doing a masterful job leading the Buffs to a 2-0 record and the 18th slot in the AP rankings.
The entire landscape of college sports is paying attention, and plenty of believers are hopping aboard the rollicking CU bandwagon.
In a hypercharged TV interview following CU's major upset victory over TCU, Coach Prime told the world that he "keeps the receipts" in reference to those who wrote the team off. Now he's more than happy to check you on board.
Rough games lie ahead vs USC and Oregon (and don't sleep on rival and heavy underdog CSU Rams) that will test the true strength of this very new team. No matter the direction this season goes for the Buffs, the ride on this wagon is gonna be fun.
Sports » Soccer/Football Ball Sports Other Sports
americanfootballgridironcubuffscollegecoloradodeionsandersprimecoachbuffalosportscartoon