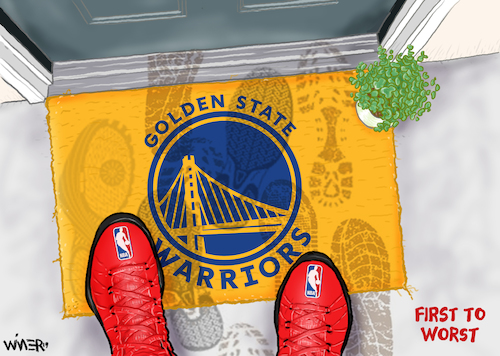 693
Golden State NBA Doormat

1
Applause

By
karlwimer
on December 11, 2019
A cartoon for WoodyPaige.com - a leading national U.S. website for sports. Usually the story goes the other way. A NBA bottom feeder finds its way to the top suddenly via the hiring of the perfect coach or star player. But rarely does the top team in any league become the doormat (a popular American term for a team that gets walked on by all the other teams) overnight. I can't recall another collapse as dramatic as the Golden State Warriors' during the past few months.

One moment they own the best record in the league and lose in dramatic fashion in the NBA Finals. The next moment they've lost arguably their best player (Kevin Durant) through free agency and a trade. Their roster has been so decimated by injury that even a standout coach like Steve Kerr can't weave enough miracles to overcome.

But at least all those Golden State fans who've been spoiled by success in recent years can lounge in luxurious comfort in brand, spanking new seats and soak in their state-of the-art stadium while their team flails on the court.