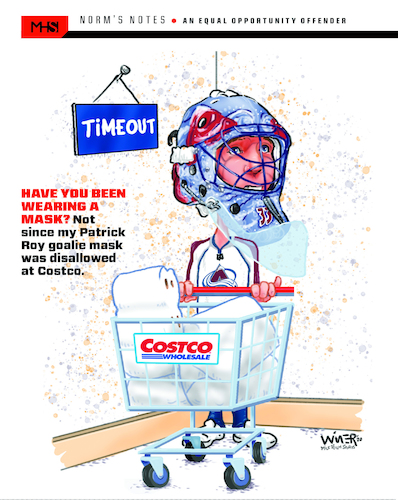 286
Hockey Mask Will Not Cut It

1
Applause

By
karlwimer
on June 19, 2020
My latest cartoon for Mile High Sports Magazine, the leading publication dedicated to sports in Colorado and the Rocky Mountain region.

Not everyone in the US is happy about wearing a mask when they are in public places. This cartoon pokes fun at recent incidents with customers at big retailers like Costco who are told in no uncertain terms that without a proper mask they are not welcome.

So...a little timeout for a shopper who was looking to pick some things up in his favorite ice hockey goalie's head gear...
Media & Culture » Bars & Pubs Society Consumption Lifestyle
icehockeycoronaviruscovidmememaskgoalieshoppingrulescoloradoavalanche