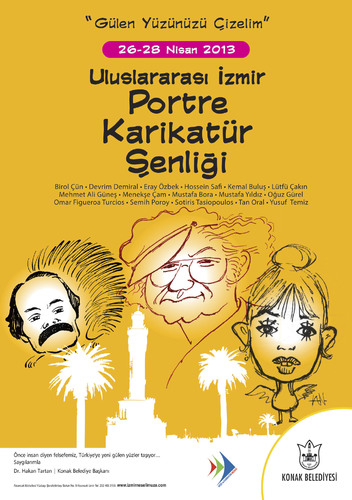 3130
International Caricature Festiva

By
menekse cam
on April 18, 2013
International Caricature Festival in İzmir.

A first in Turkey again takes place in Izmir. International Caricature Festival will be held in 26-28 April in İzmir with the participations of foreign caricaturists , Omar Figueora Turcios from Spain, Sotiris Tasiopoulos from Greece, Hossien Safi from Iran and Turkish caricaturists Birol Çün, Devrim Demiral, Eray Özbek, Kemal Buluş, Lütfü Çakın, Mehmet Ali Güneş, Menekşe Çam, Mustafa Bora, Mustafa Yıldız, Oğuz Gürel, Semih Poroy, Tan Oral ve Yusuf Temiz.
For 2 days on "Kıbrıs Şehitleri street" portrait drawings will be done. "Face to Face" exhibition by Tan Oral will be opened in Joy and Cartoon Museum. Then Semih Poroy will speak about "Caricature Drawing Theories". The conversations titled "We are speaking about caricature with the masters" will be held in Türkan Saylan Culture Center.
drawingsliveforeigndomesticcaricaturistsguestizmirinternationalfestivalcaricature

ballot box

Sebnem FERAH

Lucian