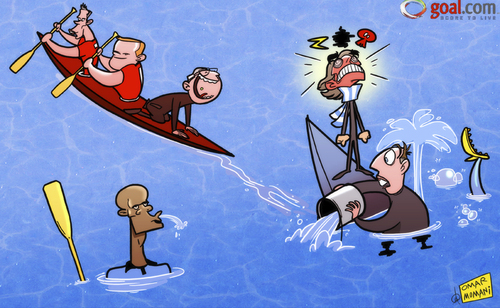 2383
Man City sink without trace

3
Applause

By
omomani
on March 17, 2013
Everton's fine 2-0 win over the Premier League champions at Goodison Park yesterday has left Roberto Mancini & Co. up the proverbial creek without a paddle, with Sir Alex Ferguson's side now 15 points clear of their rivals with just nine games to go after a nervy 1-0 win over Reading at Old Trafford.

There's no doubting City have missed the calming presence of talismanic captain Vincent Komany at the back of late, while the Red Devils have been able to call on Wayne Rooney and Robin van Persie to deliver the goods as Mario Balotelli rocketed off to Milan and Mancini's other forwards decided they didn't really fancy playing football this season.

And all the while there's poor David Platt - if Mancini isn't wearing comedy masks of his face to press conferences, then he's stuck bailing out the sinking ship. Poor David.
Sports » Soccer/Football Championships
davidplattfergusonmanchestercityunitedmancinipremierleaguerooneyvanpersievincentkompany