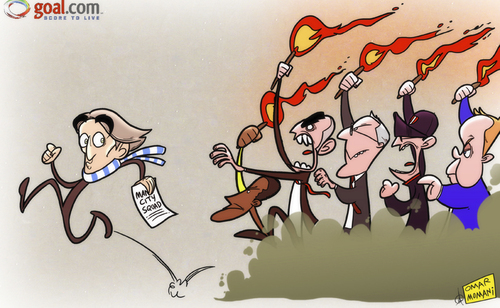 2000
Mancini risks rivals wrath

1
Applause

By
omomani
on April 17, 2013
Manchester City manager Roberto Mancini looks set to risk the wrath of rival Premier League bosses by fielding a weakened side against struggling Wigan on Tuesday.

The Italian is set to rest several key names after testing fixtures against Manchester United and Chelsea with Micah Richards, Edin Dzeko and Aleksandar Kolarov all expected to start.

The news might be welcomed by his opposite number Roberto Martinez, with his side currently in the relegation zone, three points from safety but with two games in hand.

However, it is unlikely to go down as well with rivals as the scrap to avoid the drop starts to hot up.
Sports » Soccer/Football Championships
astonvillachrishughtonmanchestercitymancininorwichpaolodicaniopaullambertpremierleagueqprredknappstokesunderlandtonypulis