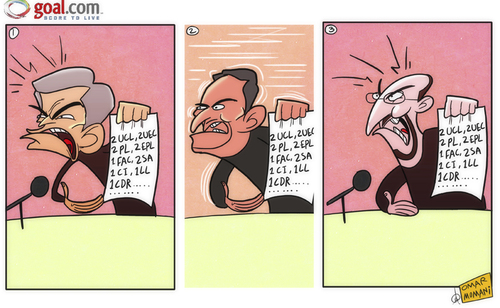 1930
Mourinho launches into Rafa

2
Applause

By
omomani
on May 05, 2013
Jose Mourinho may not be at Real Madrid for much longer, but the Portuguese coach made sure reporters remember his contribution at the Bernabeu on Friday.

Goal understands the Special One will move to Chelsea in the summer after an agreement was reached in principle, paving the way for his Stamford Bridge return.

But Mourinho reminded everyone of his achievements in Madrid, in a press conference similar to that of Rafa Benitez - the man he is set to replace in London - during his time at Liverpool.

"I am always hoping there is some 'smart guy' who will ask me a question which requires a piece of paper," he said.

"The record league title is mine; I have played in three Champions League semi-finals, which doesn't personally leave me satisfied. [But] it can't be easy because 18 coaches in 21 years [have only reached] five Champions League semi-finals at Real Madrid. The bad guy is Mourinho, with three in three seasons.

"My work is never valued in absolute terms but in terms of what I have achieved and that's my fault because I have won so much that the expectations are always much higher than what I am able to achieve later on.

"You journalists will want to wipe me off the list but you won't be able to - only when there is a team which wins 101 points [in La Liga]. Twenty years without winning the Copa - and we won it. The records of (100 points, 121 goals) is mine, it can't be deleted and it doesn't feed my ego."