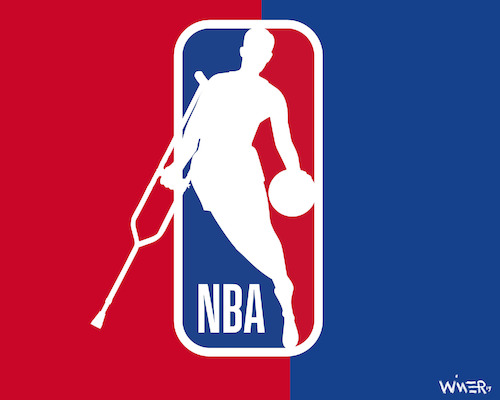 756
NBA Season M.A.S.H. Unit

2
Applause

By
karlwimer
on November 13, 2019
My latest sports cartoon for WoodyPaige.com.

Before the NBA season even started, some of the top players were already ruled out for the whole year, if not a significant portion.

Celtic Gordon Hayward, after seeming to finally get his groove back this season following a catastrophic leg injury in 2017 and struggles since, broke his hand this past week and is expected out for months. Zion Williamson, the much heralded rookie for the Pelicans had knee surgery before the season even started.

Golden State was hit the hardest, first losing Kevin Durant in the NBA Finals to an Achilles injury (before losing him to the Nets in a sign and trade deal), then Klay Thompson in those same Finals to a torn ACL that may cancel his entire 2019-20 season. This season started with much of the same for the Warriors, with team leader Stephen Curry breaking his hand (gone until February), and Draymond Green (finger), Kevin Looney (hamstring), and five other key players missing significant time with injuries. They've gone from the top of the league to the very bottom (2-9 at the time of this story) in just a few months. That dynasty came and went quickly.

Here's a rundown of major injuries faced by key players in this young season (not counting smaller, day-to-day injuries):

Victor Oladipo, Indiana, knee
Paul George, LA Clippers, shoulder
Zion Williamson
Blake Griffin, Detroit, hamstring
Kyle Lowry, Toronto, thumb
John Wall, Washington, Achilles
Gerald Green, Houston, foot
Myles Turner, Indiana, ankle
Jusuf Nurkic, Portland, leg
De'Aron Fox, Sacramento, ankle
Justice Winslow, Miami, head
Chandler Parsons, Atlanta, knee
Rajon Rondo, LA Lakers, calf
DeMarcus Cousins, LA Lakers, knee
Serge Ibaka, Toronto, ankle
Lonzo Ball, New Orleans, hip
Andre Roberson, OKC, knee
Zach Collins, Portland, shoulder
Derrick White, San Antonio, thigh
Marvin Bagley, Sacramento, thumb
Dante Exum, Utah, knee
Grayson Allen, Memphis, ankle
Jeremy Lamb, Indiana, ankle
Nicolas Batum, Charlotte, finger
Elfrid Payton, NY, hamstring
Allen Crabbe, Atlanta, knee
Otto Porter, Chicago, foot
John Henson, Cleveland, hamstring
Reggie Jackson, Detroit, back
Bruce Brown, Detroit, knee
Darius Miller, New Orleans, Achilles
Damion Lee, Golden State, hand
Nene Hilario, Houston, groin
Udonis Haslem, Miami, wrist

There's a Dream Team of All-Stars on this list.

Feels like the NBA has become the NFL. Teams with the least injuries will most likely come out on top.

Another way to look at it, which unsung heroes will emerge in a vacuum where the stars are missing?
Sports » Ball Sports Other Sports