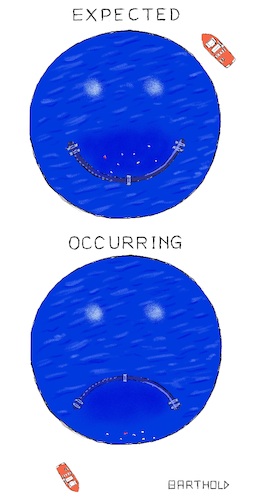 1302
Ocean Cleanup - Sea Trial

By
Barthold
on January 04, 2019
The Ocean Cleanup is a 600m U-shaped boom floating in the operation area.
In principle both, the plastic debris and the barrier are moving with the speed of the current.
The assumption is that the waves contribute an additional speed component moving the barrier faster than the plastic debris and thus will collect it.
However, the test operation revealed - for repeated times - that the device first collected the debris properly but that little later the collected garbage moved faster than the structure and, thus, could leave it.

Besides, the sea trial duration was 2.5 month. At the end of that time a severe damage concerning the structure prevented any further testing.
Business » Managers Energy & Resources Ecology
oceancleanupplasticdebrisgyretestdeploymentfailuregreatpacificgarbagepatchboyanslatsmileysadfrowningfaceboombarrier