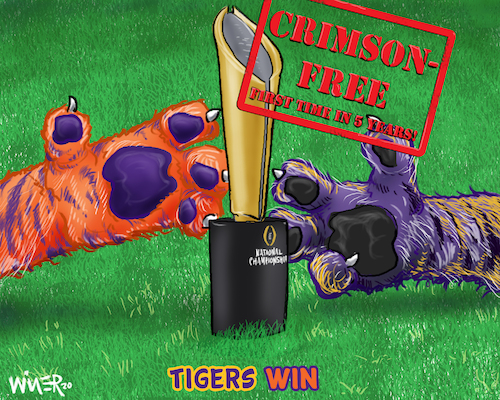 896
Paws on the Prize NCAA Football

1
Applause

By
karlwimer
on January 10, 2020
Latest for WoodyPaige.com, a leading online site about sports in the United States (and occasionally international).
Paws on the Prize. No matter what, fans of Tigers will be waking up Tuesday morning as National Champs. The LSU Tigers face the Clemson Tigers in what projects to be an epic final game of the college football season. The winner will be crowned the 2019 College Football Playoff national champions.

Two outstanding offenses facing nearly as equal defenses, with loads of talent that will eventually be starring on Sundays. And, for the first time in five years, there will be no Crimson (Tide) involved in college football's biggest game of the season.

It's hard to believe after so much success by Alabama and head coach Nick Saban over the last dozen years. And at the end of the day, it would be foolish to count them out in years to come.
Sports » Soccer/Football Ball Sports Other Sports