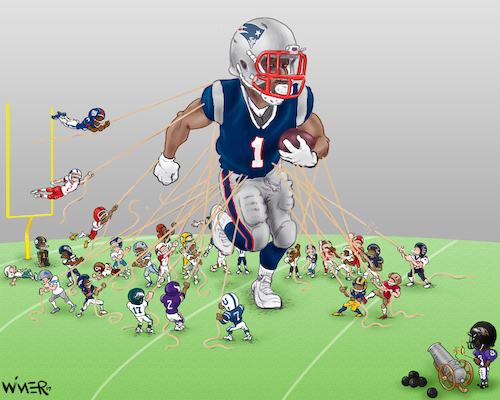 624
Quoth the Ravens - Not One More

2
Applause

By
karlwimer
on November 07, 2019
My latest cartoon for WoodyPaige.com - a leading US website providing insightful, fun commentary on American and international sports.
This cartoon comments on the recent loss by the New England Patriots in the middle of a season where they seemed unbeatable.
For much of the past twenty years, the New England Patriots have been the bully on the block. 2019 was also very much shaping up that way, with blow outs in nearly every game.
Like a Brobdingnagian nightmare in a world of Lilliputians, until Sunday night the Patriots had barreled through the NFL outscoring their opponents by a stunning 250 to 61. Then they met the Baltimore Ravens on a chilly night in the city of Poe, and were knocked down for the first time since December, 2018. Surprisingly, it wasn't even close, as the Ravens exposed the Patriots in a 37-20 butt whipping. The Ravens showed they deserve serious mid-season attention, especially in an inconsistent AFC. Foremost for this shift has been a stellar Lamar Jackson who is making himself a legitimate case for MVP.
Looking back, not many of the early opponents (with the exception of the Bills) have shown much quality this year, so perhaps New England simply hadn't faced much of a challenge, before they met this giant killer. It sets the table for a potentially very interesting rematch come playoff time.
And meanwhile, the rest of the league let out a collective sigh of relief with the recognition of a very mortal New England squad.
Sports » Soccer/Football Ball Sports Other Sports
newenglandpatriotsnflbaltimoreravensamericanfootballgullivergiantssports

Adaptive Spir...

MJ

Freedom of Sp...