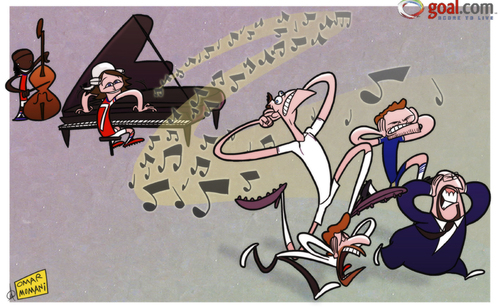 2629
Rosicky Mozart

1
Applause

By
omomani
on April 11, 2013
The race for the top four intensified this weekend as ten-men Arsenal clung on to claim three huge points against West Brom, pushing them into the top four at the expense of Chelsea.

The Gunners' unsung squad players have driven the club forward in recent weeks, with Gervinho and 'Little Mozart' Tomas Rosicky combining well at the Hawthorns to narrow the gap to third-placed Tottenham to just a single point.

With Gareth Bale injured and Chelsea in the middle of a tiring and congested fixture list, Arsenal - who have picked up 22 points from a possible 27 in their last nine games - have the other Champions League contenders running scared.
Sports » Soccer/Football Championships
tomasrosickygervinhogarethbalejuanmatavillasboasrafaelbenitezchelseaarsenaltottenhampremierleague