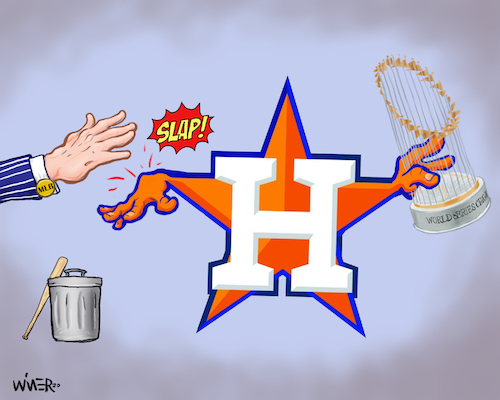 617
Wrist Slap for Houston Astros

1
Applause

By
karlwimer
on January 21, 2020
Latest cartoon for WoodyPaige.com, a leading online commentator of sports in the United States.

Ice needed for the slapped wrist of the Houston Astros

Punishment was meted out to the Astros this week for their sign stealing offenses that took place on their road to a World Series title in 2017. Manager A. J. Hinch and general manager Jeff Luhnow were both banned by the MLB for a year, then subsequently fired by the team owner.

Since then, Red Sox manager Alex Cora and Mets manager Carlos Beltran have also lost their jobs for their involvement in the scheme.

There's been plenty of complaints across the league that this wasn't nearly enough of a punishment for a club that benefited financially in a big way from the championship, and was, in effect, merely a slap on the wrist.

The tremors have been felt across the league with more questions and accusations.

For a rule that has a ton of grey area (sign stealing is legal as long as it doesn't involve technology), it will be interesting to see how it all shakes out.
Sports » Ball Sports Other Sports Championships
mlbbaseballhoustonastrossignstealingcheatingpenaltiessportsunitedstates