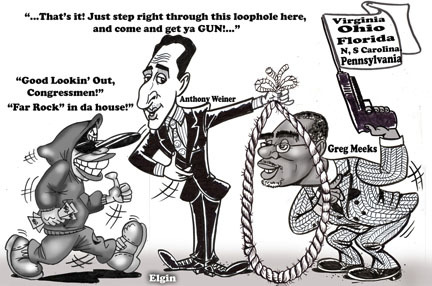 5369
come and get ya gun!!

2
Applause

By
subwaysurfer
on December 03, 2009
Editorial done for The Wave Newspaper. US Congressmen Anthony Weiner and Greg Meeks created a legal loophole that allows for gun sales from gun shows to anyone who is willing to travel to Virginia, North and South Carolina, Ohio and Pennsylvania to attend a gun show. A lot of these guns have been purchased by lawbreakers in the Rockaways according to the editorial.
gunlawsloopholescartoonscaricaturecongressmenanthoyweinergregmeeks