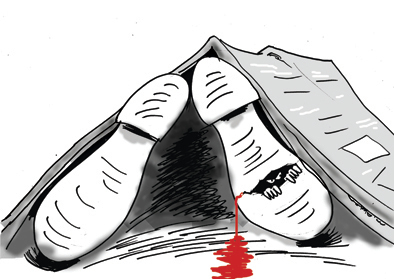 4917
hrant dink2

By
muharrem akten
on January 19, 2010
Hrant Dink (Armenian: Հրանդ Տինք, pronounced [həˈɾɑnt dinkʰ]) (September 15, 1954 – January 19, 2007) was a Turkish-Armenian editor, journalist and columnist.

As editor-in-chief of the bilingual Turkish-Armenian newspaper Agos (Ակօս), Dink was a prominent member of the Armenian minority in Turkey. Dink was best known for advocating Turkish-Armenian reconciliation and human and minority rights in Turkey; he was often critical of both Turkey's denial of the Armenian Genocide, and of the Armenian diaspora's campaign for its international recognition.[1][2] Dink was prosecuted three times for denigrating Turkishness, while receiving numerous death threats from Turkish nationalists.[

Hrant Dink was assassinated in Istanbul in January 2007, by Ogün Samast, a 17-year old Turkish nationalist.

karikatür

digital

öktemer köksal