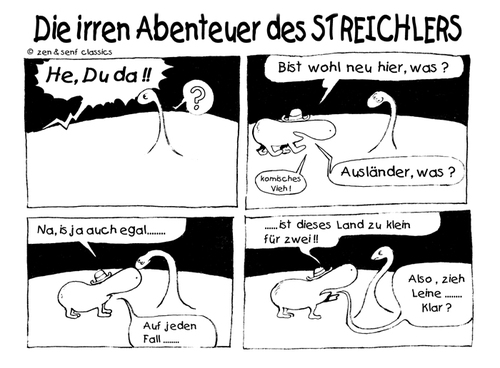 33349
streichler und planetotier

By
zenundsenf
on March 02, 2010
alter funny von mir, neu gelettert, zottig und tiefsinnig
"the new adventures of an animal named "streichler" (the peter/stroker) and another creature with name planetanimal.
Translations
(1)
add
English By zenundsenf
'PAGE 1
Streichler: he you! you are probably new here? (strange creature!)..foreigner, ha??
..does not matter...this area is to small for two of us...
therefore disappear!!!
PAGE 2
Planetotier: Your comments raise very serious problems!!
PAGE 3
Streichler: well, now I know it... very depressing!
Slowly, I despair of my world view. What I did for a sence at all?
Planetotier: because maybe I can help you. you are a "peter"...Through your movements on me, I get the essential strokes!
Streichler: nuts!..who tells such a nonsens???
Planetotier: my biological teacher!
PAGE 4
Planetotier: hi prof.
how do you do....etc etc
-
PAGE 5
Planetotier: You are now around for 3 days and do not move...
Streichler: (Strike!)
Planetotier: It must make no sense to go against his purpose in life!
Streichler:(silly talk!)
Planetotier: You are a Streichler and your job is to move!!
Streichler:(damned...i must piss!!)
Planetotier: We live in a kind of symbiosis. I am your host body and you are my Streichler!
Streichler: (konzentration..)
PAGE 6
Planetotier: I do not understand why you quarrel with your fate! Not every character has such an honorable task!
Streichler: (No, no, .. I no longer think!)
(here i can`t piss...the animal always have a look to me!..)
Planetotier: why you look so strange???
Streichler: (oh man, what shall i do??)
...streichler on the run....
Streichler: (the spirit was willing ...)
Planetotier (in the backround):
good!!...ahhh!!...what a feeling!!!'

monokultur

weltraumfahr...
MUH!