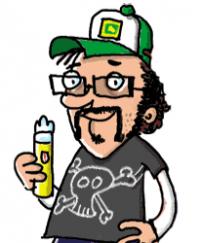 Schoolpeppers
""I'm the best there is in what I do. But what I do best isn't very nice." - Wolverine"
Köln, Germany
member since November 25, 2010
schoolpeppers.de
1,154,615
views
1,296
comments
40
favored
Schoolpeppers's gallery
(328)
see all
Professional Info
Name
Sascha Dörp
Date of birth
1971-11-24
Education
Visuelle Kommunikation
Technique
Krude
Tools
Papier, Stift, Mac, Painter, Wacom
Influences
Will Eisner, Frank Miller, Jack Kirby, André Franquin
Fav Toon
The Spirit
Personal Info


Gestalter aus Leidenschaft mit einem leichten Hang zu trashigen Filmen, lauter Musik und geselliger Runde.
Contacts of Schoolpeppers
(65)