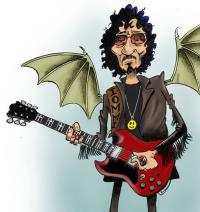 campbell
United Kingdom
member since January 29, 2011
threefingersorfour.blogsp...
407,749
views
218
comments
17
favored
Professional Info
Name
Des Campbell
Education
Raised by wolves
Tools
Pen & ink/brush pen - digital colour
Influences
Mad magazine, British comics, Ronald Searle, Terry Gilliam
Fav Toon
Anything by Mort Drucker and Jack Davis
Personal Info
I always refer to myself as a failed cartoonist, but never say never! One day opportunity may knock at my door (although It'll probably be some needy charity on the flipping scrounge again!) My greatest achievement is that my daughter has taken after me and has gone to university to study fine art. Bless her little cotton socks!!
Contacts of campbell
(48)