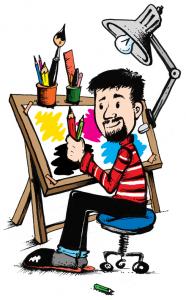 dragas
"Luck favors the brave.."
Pancevo, Serbia
member since May 21, 2011
www.behance.net/ndragash
224,654
views
58
comments
9
favored
Professional Info
Name
Nikola Dragas
Date of birth
1981-09-15
Education
Graphic Designer
Technique
drawing, painting, work on computers..
Tools
felt pen, crayons, lead pencil, pen and ink,computer...
Personal Info
Nikola Dragas is illustrator, cartoonist and graphic designer. He was born in 1981 in Pancevo, Serbia. He works as a graphic designer at JP PTT Serbia in Belgrade. Member associations cartoonist Serbia - FECO. He illustrate children's books and textbooks and his work has been published in magazines and newspapers. He also had exhibitions in the country and abroad. Wins many awards for cartooning, illustration and graphic design. In addition to his work he also like judo, books and his family.