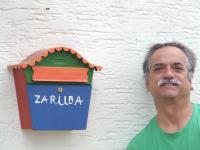 skätch-up
"sketch, draw and paint"
stuttgART, Germany
member since December 14, 2010
zaruba-stuttgART-art-is-t...
1,203,896
views
49
comments
2
favored
Professional Info
Name
Günther Z.
Date of birth
1956-00-00
Education
self,
Technique
sketch
Tools
colorpencils and black fine liner
Influences
Möbius Haitzinger, M,C. Escher, Kandinsky. Schiele; Boris Vallero, Frank Frazetta
Fav Toon
EL GATO
Personal Info
What a lot of possibilities are there if you have a piece of paper and some pencills, or any colores....