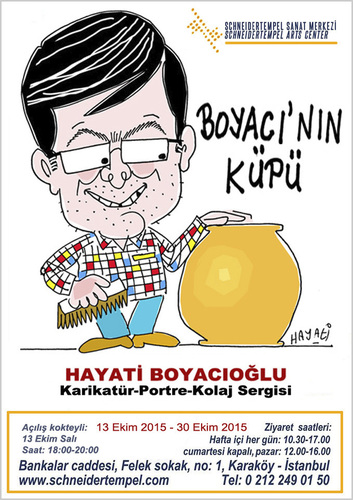 2036
Ausstellung

By
Hayati
on October 08, 2015
Exhibition in Istanbul The painter´s bucket
Hayati Boyacioglu, who is familiarized to observe situations from a bird's eye view is living in Germany for almost 40 Years. In his youth he started a career as a caricaturist by drawing caricature portraits in the Dolmabahce Kücük Ciftlik Park and since then the pen was stick to his hand. The fact that he is living between two cultures enabled him to analyze curiosities between the cultures and these observations gave him the possibility to create a lot of caricatures, published in different newspapers, journals and schoolbooks as well – for example in the magazine "Die Brücke" regularly. In addition he is the co-creator of different multilingual journals such as "Donquichotte" and "Fire" and a member of the "Cartoonlobby" and the artist union "Cartooning for peace".
Hayati who was born in Istanbul and studied German philology in Berlin has been organized different exhibitions throughout Germany. Meanwhile he created the stage play "Blackheads are Supermen" and his first caricature album "Integrational Encounters".
Regarding to his age of 55 Hayati Boyacioglu is showing in his exhibition "Painter´s bucket" 55 different drawings on 13th October 2015 at the Schneidertempel Arts Center. His exhibition also shows different collages and portraits.
The exhibition will be open till 30th October 2015.
Media & Culture » Internet Press Gastronomy Education Traditions Free time Lifestyle Film & Theater Kunst und Museen
sergiausstellungexhibitionkarikaturcartoonhayatiboyaciogluberlinistanbulturkeyturkeikarakoeyschneidertempelgalerie

Mujdat Gezen

Jahrestag

nett