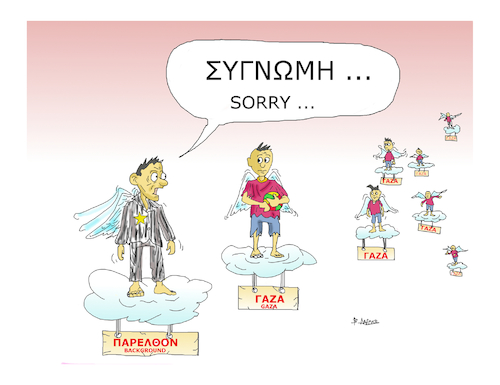 694
Gaza Strip

1
Applause

By
vasilis dagres
on May 14, 2018
Area 365 km2

Population πληθυσμός
End 2015 estimate 1.85 million

Density 5,046/km2

A people who has suffered much trouble, from fascists and Nazis, is not allowed to behave badly to the Palestinian people.
The two peoples should live together in harmony.
Surely there are reasonable people on both sides.

Ένας λαός που έχει υποστεί πολλά προβλήματα, από τους φασίστες και τους Ναζί, δεν επιτρέπεται να συμπεριφέρεται άσχημα στον παλαιστινιακό λαό. Οι δύο λαοί πρέπει να ζουν μαζί με αρμονία. Σίγουρα υπάρχουν λογικοί άνθρωποι και από τις δύο πλευρές.
Politics » National/Domestic International Military & Security Terrorism Economy & Money Other Conflicts & War Politicians Parties Democracy Energy