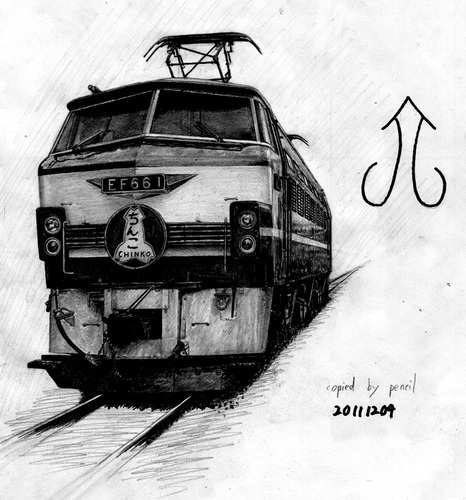 3263
Japanese old locomotive EF-66

2
Applause

By
Teruo Arima
on December 04, 2011
JNR(Japan National Railway) EF-66(EF-sexty-sex) is famous Japanese old locomotive constructed from 1968 to 1991. The early EF-66 has no windscreen cap but was added later like this drawing. The late EF-66s constructed from 1989 are so called EF-66 100s number and its design is very different from former EF-66. (JNR has been privatized and gotten JR since 1987.)
I copied early EF-66 picture on the internet as training. Its original head mark is sleeper train SAKURA(cherry blossom) version. But, but, bat,,,,when I saw this petal like headmark, I thought out of symbolic design!!!!!! I removed 2 SAKURA petals, then, it became the CHINKO desingn headmark!!! Express train with sleeping berths 'CHINKO'!!!
Oh! My 135mm sausage!
Education & Tech » Traffic & Space Flight