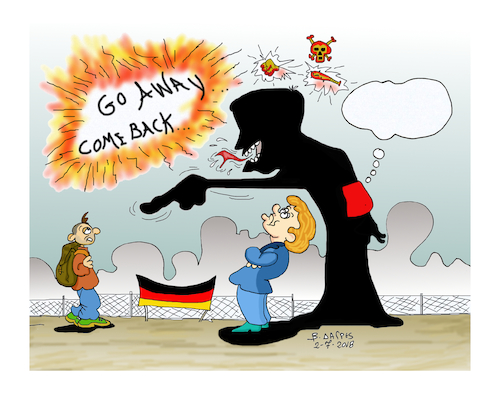 813
Merkel Seehofer EU

1
Applause

By
vasilis dagres
on July 04, 2018
From documentary National geographic, '' the youth of the Nazis ''. a German grandfather belonged to these youth, visited a school. When he saw a black child, he approached it and said: If you had been born at the time when I was young I would have killed. The grandfather was moved and wept, because he understood the evil that he as a young man would do.

Από το ντοκιμαντέρ του National geographic , '' η νεολαία των ναζί ''.
κάποιος γερμανός παππούς που άνηκε στην παραπάνω νεολαία, επισκέφτηκε ένα σχολείο .
Όταν αυτός είδε ένα μαύρο παιδάκι , απευθύνθηκε σε αυτό και του είπε : Εάν εσύ είχες γεννηθεί την εποχή που εγώ ήμουν νέος θα σε είχα σκοτώσει. Ο πάππους αυτός συγκινήθηκε και δάκρυσε , γιατί κατάλαβε το κακό που αυτός ως νέος άνθρωπος θα έκανε .
Politics » National/Domestic International Elections Military & Security Third World Immigration Historical Other Conflicts & War Politicians Parties Democracy