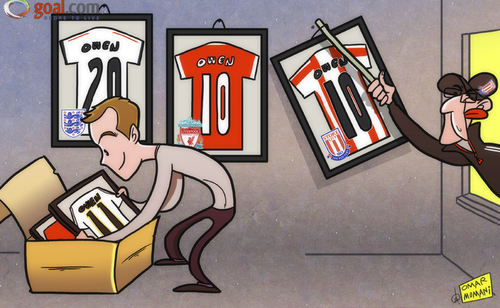 2167
Pulis muscles in on Owen retire

1
Applause

By
omomani
on March 22, 2013
The circumstances which led Michael Owen to retire at Stoke City are a stark contrast to the blistering way the forward entered world football.

At 17 years of age, Owen burst onto the Premier League scene already armed with the ability to scare seasoned defenders with his searing pace and a sharp eye for goal. Just one year later, Owen was replicating his prowess on a global stage, and it's difficult to envisage another England youngster having an impact at a World Cup in the same way the Liverpool forward took France '98 by storm.

A persistent hamstring injury has blighted Owen's career since his time at Anfield, and at 33, with no Premier League starts this season, it's a low-key ending to a career that has been rich with high points - but Tony Pulis doesn't want Stoke to be airbrushed from his history.
englandliverpoolmanchesterunitedmichaelowenrealmadridstokecitytonypulis