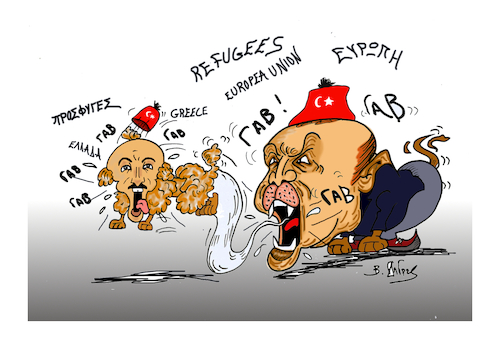 421
Suleiman Soyilu Erntogan

1
Applause

By
vasilis dagres
on March 10, 2020
In an unprecedented statement, the Turkish interior minister openly encourages immigrants to violate Greece's borders and threatens by saying "see what happens next."

In his statements, published in the Turkish media, Suleiman Soyilu announced that 1,000 commandos of the Turkish police special forces began operating on Friday night.
Με μία άνευ προηγουμένου δήλωση, ο Τούρκος υπουργός Εσωτερικών ενθαρρύνει ανοικτά τους μετανάστες να παραβιάσουν τα σύνορά της Ελλάδας και απειλεί λέγοντας χαρακτηριστικά «να δείτε τι έχει να γίνει στη συνέχεια».
Σε δηλώσεις του, που δημοσιεύονται στα τουρκικά μέσα ενημέρωσης, ο Σουλεϊμάν Σοϊλού ανακοίνωσε ότι οι 1.000 κομάντο των ειδικών δυνάμεων της τουρκικής αστυνομίας άρχισαν να επιχειρούν το βράδυ της Παρασκευής.
Politics » National/Domestic International Elections Military & Security Third World Terrorism Health Education Immigration Historical Other Conflicts & War Politicians Parties Democracy Energy