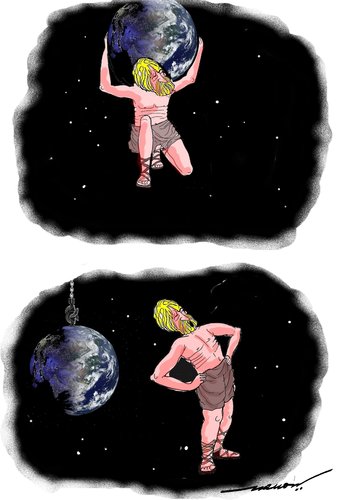 1646
atlas the cheat

1
Applause

By
kar2nist
on October 23, 2015
It is about Atlas the Greek.....nay , Atlas the Cheat!

Atlas holding the world is an image depicted in many works of art. It is seen so frequently that the image has lost all meaning:(
Imagine a human character trying to support the world before it falls and squashes him flat.
According to Greek Mythology - maybe this would need checking:) - the world never did squash Atlas flat , ( how could it?) and he remained ( apparently) supporting the world ! As far as the Greeks could envisage, it would remain doing so until the god Zeus decided to release him from his task...
All bull...:)
But personally I think Atlas was a cheat! ... check out my kar2n:)
Hahaha!

high hopes

surfer

mixed up del...