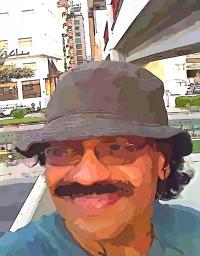 kar2nist
"Retired, But NOT tired!"
Shanti-Savera Ernakulam, India
member since May 01, 2011
:-
2,326,676
views
1,413
comments
40
favored
Professional Info
Name
TVG Menon
Date of birth
1939-11-30
Education
B.Sc; B.E.( Electrical)
Technique
Black and White and water colour
Tools
Engineering pen and brushes
Influences
Mario Miranda, cartoonist, India
Fav Toon
All good ones;-)
Personal Info
TVG Menon , alias 'kar2nist', is a freelance cartoonist . His hobbies include, among other things, photography, painting , computer graphics, video-shooting and editing , audio editing and drawing cartoons, both technical and social. He holds a B.Sc. Degree in Physics as also a degree in Electrical Engineering from the University of Delhi. During his active working days he has been contributing cartoons from 1980 onwards for the house magazines of his Indian companies His works have also appeared in the house magazine of his UK company . He had contributed on a regular basis cartoons for more than 2 years in one of India's premier English dailies He has also won the 'Best Cartoon Award' instituted by the Kerala Cartoon Academy in the year 2005. He has recently received the Kerala State Awards ( Honourable Mention ) in 2011 for his cartoon entry. Also he was honoured by the Lalitha Kala Academy of Kerala as a senior cartoonist in 2011. He has won prizes in some of the cartoon competitions conducted by the Lalitha Kala Academy. He has been participating in many international cartoon contests and exhibitions for the last few years . His works have appeared in the associated traveling exhibitions in France, Croatia and Portugal. Romanian Cartoon Association has also hosted a full web page of his caricatures of famous Romanian personalities in their website. He has exhibited close to 300 cartoons in his gallery at Toonpool.com . Also for the past few months he has been contributing regularly to two on-line Cartoon Magazines named "Bostoons Themag" and "Toon Mag" as also for "Brazil Cartoon International" and another Fenamizah at intervals. More recently, six of his kar2ns on "Climate Change In Indian Contest" have been accepted for an exhibition associated with " An International Conference on Climate Change and Himalayas" held in New Delhi . he has also cotributed his works for The International Indian, a prestigious bi-monthly magazine being published from Dubai. A retired technocrat, Mr.Menon presently leads a quiet life with his wife in Kakkanad, a suburb of Kochi , in the southern State of Kerala , India.
Contacts of kar2nist
(46)