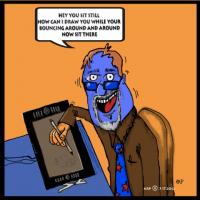 tonyp
"Just drawing you a dream"
Pacific, United States of America
member since October 22, 2011
arptoons.com
3,488,996
views
55
comments
17
favored
Professional Info
Name
Pritchard Anthony
Date of birth
1954-06-23
Education
some college
Technique
Straight hand no vector styles I use a Wacom tablet
Tools
Wacom Citiq cinq21 ux tablet
Influences
Gary Larson
Fav Toon
All of Gary Larson's books
Personal Info
I draw a lot of cartoons in the northwest region in the USA but the world is my template. O.K. O.K. I live in a little town that is along a river with a shady park near. I relax now drawing my way of seeing things. Most people say they don'y understand. I guess I rather them tell me what they see and not listening to what I'm trying to say. Stale mate.. But I keep my drawing humorous as life s/b.