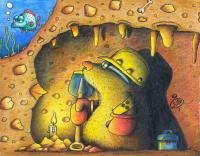 Jupp
"Handmade ! That´s it ! Don´t like Photo-Shop ! Use your hands !!!!"
Lahnstein in de Paltz´, bei Koblenz, Germany
member since December 03, 2011
www.bomm-bomm-design.de
939,587
views
297
comments
14
favored
Professional Info
Name
Stephan Kolmer (Jupp)
Date of birth
1965-02-21
Education
Yes, but not succesful !
Technique
Colour pencils oder auch Buntstifte
Tools
My hands and colour-pencils
Influences
"Deix is great ! Enki Bilal is best !!! "
Fav Toon
Transmetropolitain - Super Comic, unbedingt mal "goooooooogl´n!
Personal Info
I´m a father of twins and a happy husband ! That´s enough ! Bin ein glücklicher Vater von Zwillingen und ebenso glücklicher Partner einer tollen Frau ! (Eher unwichtig aber auch Ehemann.) Mein Stil war schon immer schrill (Farben)! Wer fährt heute noch ein buntes Auto ?? Hatte mal eins! Hatte fast immer Kontakt mit der Nachtstreife. Die kannten mich dann später sogar und haben des öfteren mit nem´kurzen Blaulichteinsatz gegrüßt. Farbe macht Spass ! Jupp