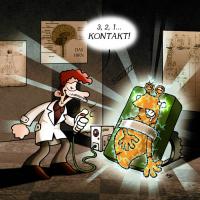 volkertoons
"Lache und die Welt lacht mit dir. Weine und du weinst allein."
Bochum, Germany
member since January 26, 2008
www.volkertoons.de
4,019,551
views
999
comments
129
favored
Professional Info
Name
Volker Dornemann
Date of birth
1968-03-23
Education
Jedi-Ritter
Technique
Krikelkrakel
Tools
Bleistift, Tusche, Photoshop, Hände
Influences
Moebius, Hieronimus Bosch, Robin Vehrs, Jeff Smith, Tim Burton und mehr
Fav Toon
Calvin and Hobbes, Bone und der von Harm Bengen mit der Kiffer-Oma im Supermarkt.
Personal Info
Ich bin der Geist, der stets verneint! Und das mit Recht; denn alles, was entsteht, Ist wert, dass es zugrunde geht; Drum besser wär's, dass nichts entstünde. So ist denn alles, was ihr Sünde, Zerstörung, kurz das Böse nennt, Mein eigentliches Element.
Contacts of volkertoons
(246)