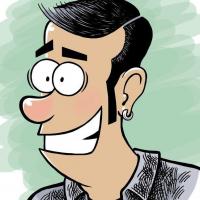 rodrigo
Lisboa, Portugal
member since August 26, 2008
www.rodrigocartoon.com/
5,778,541
views
595
comments
99
favored
Professional Info
Name
Rodrigo
Date of birth
1975-05-01
Education
Degree in Journalism by the University of Coimbra (Portugal); and diploma in Editorial and Press Illustration by Escuela Superior de Dibujo Profesional, Madrid (Spain).
Technique
mixt
Tools
Pigment liners, watercolour, watercolour pencils, Photoshop
Influences
American and European editorial cartoonists
Fav Toon
Sergio Aragonés, Quino, Rob Crumb, Mike Luckovich, Doug Marlette, etc...
Personal Info


Portuguese cartoonist and ilustrator, author of the editorial cartoons published regularly in the weekly newspaper Expresso's website (www.expresso.pt). Member of FECO Portugal.